Julia Sinclair releases debut book, a memoir titled "Bailing Out on The Borderline"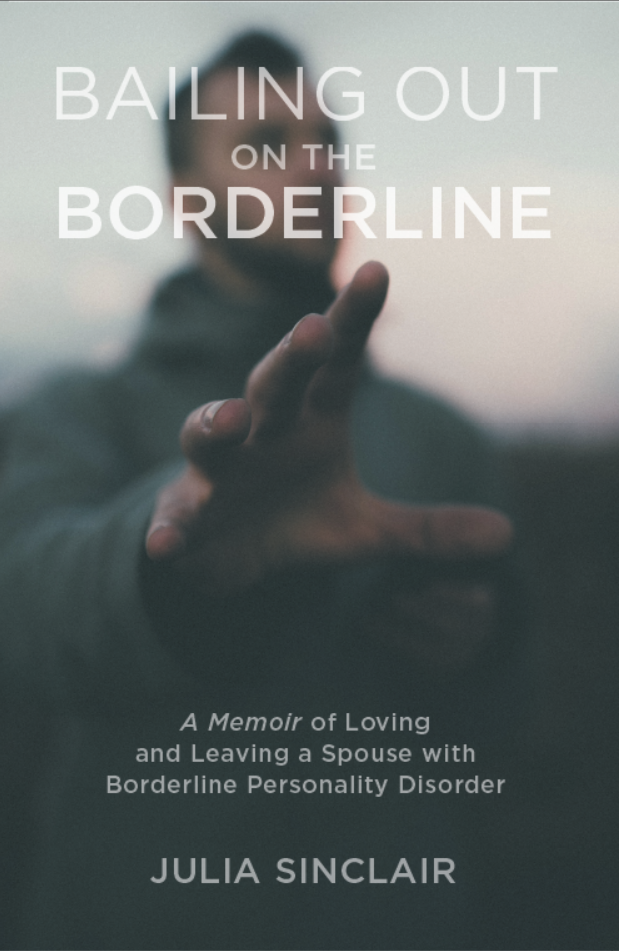 "Bailing Out on The Borderline" by Julia Sinclair has been released worldwide through Seacoast Press. The 117-page memoir recounts a personal battle with abuse and a spouse with Borderline Personality Disorder, and the clarity the author found through a lifetime of difficult experiences.
From the back cover:
At the age of twenty-three and fresh out of college, Julia fell head over heels for Randy, a charming co-worker who swooped in with flowers, romantic dates and conversations about their beautiful future together. As far as Julia as concerned, there was no looking back.
Unfortunately, along with Randy's affectionate behaviors came his highly dramatic, violent episodes. Having come from a similar home life, Julia didn't blink an eye. It wasn't until a grand finale abandonment that she recognized even her love wouldn't be able to fix his issues.
Against the wishes of her own parents and her husband, Julia struggled to understand her abusive relationship and the right actions to take. When is it right to leave a spouse that you promised to stay with for life?
It would be another twenty years before she would learn about the final, horrific consequences of Randy's actions and begin to understand the dangerous mental condition she had seen in him – Borderline Personality Disorder.
For anyone that questions whether they have been in an emotionally abusive relationship and where it could possibly lead, this book is a must read. It may even save your life.
Bailing Out on The Borderline (ISBN: 9781733473217) can be purchased through retailers worldwide, including Amazon. The paperback retails for $14.99. Wholesale orders are available through Ingram.
About the author:
Julia Sinclair lives in southern New Hampshire and is a mom to two small very spoiled dogs. She is happily married and enjoys a drama free life. She likes hiking, yoga, meditation, and continuously learning. Julia has a Masters degree in Business Administration and is a Certified Public Accountant. She crunches numbers for a large insurance company when she's not involved in the activities above.
About NH book publisher Seacoast Press:
NH book publisher Seacoast Press provides authors with traditional-quality book publishing services while allowing authors to retain publishing rights and 100% royalties. Seacoast Press' wide variety of publishing services includes book design; editorial; printing; distribution; publicity; and marketing. Seacoast Press books are available through retailers and booksellers worldwide. All Seacoast Press books can be purchased wholesale through Ingram.
To learn more about Seacoast Press, the premier book publisher in NH, visit http://www.seacoastpress.com/.
Media Contact
Company Name: SeacoastPress.com
Contact Person: Maggie Kelly
Email: Send Email
Phone: 603-546-2812
Address:45 Lafayette Rd Suite 181
City: North Hampton
State: New Hampshire
Country: United States
Website: http://www.seacoastpress.com/