Global Battery Market is expected to be more than USD 126 Billion by the end of the year 2025
Global Battery Market by Battery Types (SLI, Lithium-ion, Lead Acid, Nickel–Metal Hydride Battery – NIMH), Transport Segments (Bikes, Automotive, Marine, Forklift), Regions (North America, Western Europe, Eastern Europe, Asia Pacific, Latin America, Middle East), Companies (Continental AG, BYD Corporation Ltd, Exide Technology, Samsung SDI, SANYO-PANASONIC, LG Chem. Power Amperex Technology Limited)
According to Renub Research latest report "Global Battery Market by Battery Types, Transport Segments, Regions, Companies" the Global Battery Market is expected to be more than USD 126 Billion by the end of the year 2025.
The global battery market is expected to see significant growth in the future, due to the development of the automotive and motorcycle industry. Technological developments and increasing preference for pollution-free hybrid & electric vehicles are expected to drive battery demand over the forecast period. Through technological advances in battery technology have increased the use of various battery-operated devices worldwide. Also, the declining price of lithium-ion batteries and the increasing use of energy storage in various segments had a significant impact on market growth.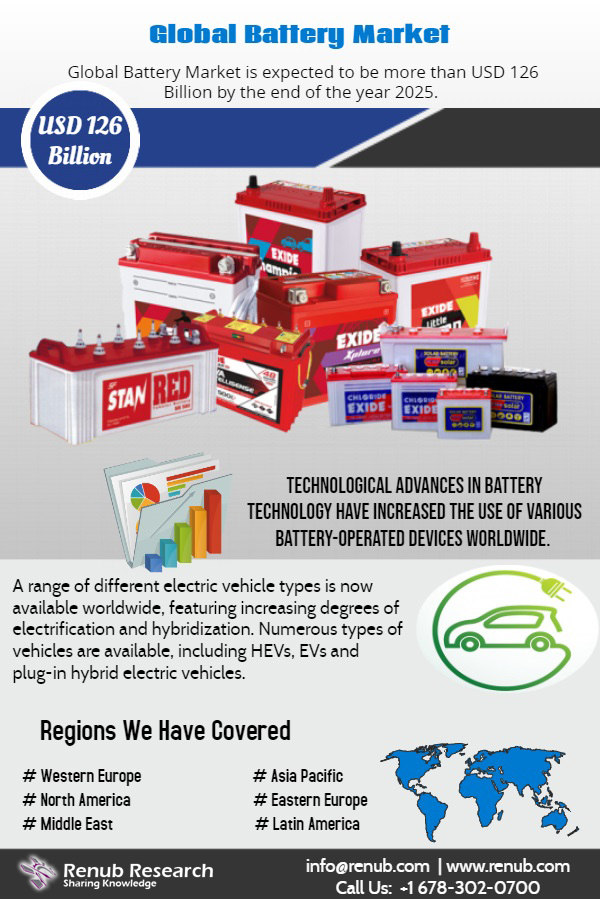 Growing environmental concerns around the globe, as well as decreasing oil reserves, are the main factors for increasing electric vehicle battery demand. Advances in battery technology have resulted in faster charging, improved densities of power, and decreased deterioration of batteries. Combined with engine expansion with higher assessment and reliability, battery chemistry improvements have reduced costs and improved vehicle enactment and ability.
Major market driving factors also include declining lithium-ion battery costs, rapid electric vehicle growth, and increasing the renewable energy sector. On the other hand, the mismatch between demand-supply of raw materials may hinder the growth of the battery market.
The SLI application holds the most significant segments of batteries, which is widely used in traditional combustion engine engines, such as cars and trucks around the world. In the near future, the automotive industry is projected to be one of the biggest end-user markets of lithium-ion batteries. Electric vehicle penetration is expected to provide a massive boost to the development of the lithium-ion battery industry.
A range of different electric vehicle types is now available worldwide, featuring increasing degrees of electrification and hybridization. Numerous types of vehicles are available, including hybrid electric vehicles (HEVs), electric vehicles (EVs) and plug-in hybrid electric vehicles. In both developed and developing economies, electric vehicle adoption is growing at a high rate of growth. Together with other developing economies, including India, which has already begun upgrading its public transport infrastructure for EVs, the United States, and China are already leading in global EV sales.
Request a free Brochure copy of the report: https://www.renub.com/request-sample-page.php?gturl=global-battery-market-by-transport-p.php
Market Summary:
By Transport Segments: Market share and market of Bikes, Automotive, Marine, and Forklift have been covered in this research report. The automotive battery holds the most significant market share than other types of battery, according to Renub Research analysis.
By Automotive Battery Type: Lithium-ion, Nickel–Metal Hydride, Lead Acid, and SLI (Start, Light & Ignition) are covered with market and market share in this report.
By Regions: Markets of North America, Western Europe, Eastern Europe, Asia Pacific, Latin America, and the Middle East are given in the global battery market research report. According to this report, there is a massive potential for the battery market in Asia Pacific regions.
By Companies: Overview, Initiatives/Recent Developments, and Sales Revenue of Continental AG, BYD Corporation Ltd, Exide Technology, Samsung SDI, SANYO-PANASONIC, LG Chem. Power Amperex Technology Limited is given in the research report.
Request a free Brochure copy of the report: https://www.renub.com/global-battery-market-by-transport-p.php
If the information you seek is not included in the current scope of the study kindly share your specific requirements with our custom research team.
Contact Us
Email: [email protected]
Phone: +1-678-302-0700
Web: www.renub.com
Browse Related Reports :
Key Topics Covered :
1. Introduction
2. Research & Methodology
3. Executive Summary
4. Global Battery Market (2012 – 2025)
5. Transport Segments – Global Battery Market (2012 – 2025)
5.1 Automotive
5.2 Marine
5.3 E-Bikes
5.4 Forklift
5.5 SLI (Start, Light & Ignition) Battery
6. Market Share – Global Battery Market
6.1 By Transport Segments
6.2 By Automotive Battery Type
6.3 By E-bike Battery Type
6.4 By Forklift Battery Type
7. Battery Type – Global Battery Market (2012 – 2025)
7.1 Automotive Battery Market
7.2 E-Bikes – Global Battery Market
7.3 By Forklift – Global Battery Market
8. Regions – Automotive Battery Market
8.1 North America
8.2 Western Europe
8.3 Eastern Europe
8.4 Asia Pacific
8.5 Latin America
8.6 Middle East
9. Regions – E-Bikes Battery Market
9.1 Asia-Pacific
9.2 Western Europe
9.3 North America
9.4 Latin America
9.5 Middle East & Africa
9.6 Eastern Europe
10. Porter Analysis of Battery Industry
11. Continental AG (Germany) – Company Analysis
11.1 Overview
11.2 Initiatives/Recent Developments
11.3 Sales Value (Billion US$)
12. BYD Corporation Ltd – Company Analysis
12.1 Overview
12.2 Initiatives/Recent Developments
12.3 Sales Value (Billion US$)
13. Exide Technology – Company Analysis
13.1 Overview
13.2 Initiatives/Recent Developments
14. Samsung SDI – Company Analysis
14.1 Overview
14.2 Initiatives/Recent Developments
14.3 Sales Value (Million US$)
15. SANYO-PANASONIC – Company Analysis
15.1 Overview
15.2 Initiatives/Recent Developments
15.3 Sales Value (Million US$)
16. LG Chem. Power (LGCPI) – Company Analysis
16.1 Overview
16.2 Initiatives/Recent Developments
16.3 Sales Value (Million US$)
17. Amperex Technology Limited (ATL) – Company Analysis
17.1 Overview
17.2 Initiatives/Recent Developments
17.3 Sales Value (Million US$)
18. Driving Factors
18.1 Growth in Transportation Needs
18.2 Growing Demand of Electric Powered Vehicles
18.3 Continuous Decline of Lithium-ion Battery Prices
19. Challenges
19.1 Stringent Lead Pollution Norms that are affecting the Manufacturers
19.2 High Import Taxes
19.3 Grid Flexibility
About Us
Renub Research is a Market Research and Consulting Company. We have more than 10 years of experience especially in international Business-to-Business Researches, Surveys, and Consulting. We provide a wide range of business research solutions that helps companies in making better business decisions. Our clients rely on our market analysis and data to make informed knowledgeable decisions. Our pertinent analysis helps consultants, bankers and executives to make informed and correct decisions.
Media Contact
Company Name: Renub Research
Contact Person: Rajat Gupta
Email: Send Email
Phone: 16783020700
Address:225 Kristie Ln
City: Roswell
State: GA
Country: United States
Website: www.renub.com/heavy-industries-31-c.php