Historian Godfrey Khill Offers Riveting Accounts of Gullah History In New Book And Charleston Tours
Charleston, SC – Godfrey Khill "Gullah Jac," Charleston, South Carolina's only native Gullah historian, tour guide and author of the Gullah Pages, has announced the release of his new book, Gullah, The Blood Root to Charleston's Slave Trade and Redemption, Rev. 22.
His latest book continues to tell the story of Charleston's Gullah community through both a historical and cultural lens, unearthing untold stories and unknown truths about this historic community that traces its origins back to West Africa. A native Gullah and historian himself, Godfrey's latest work, loaded with eye-opening historical and Biblical hidden secrets, changes everything readers thought they knew about Gullah history and Jesus the Christ.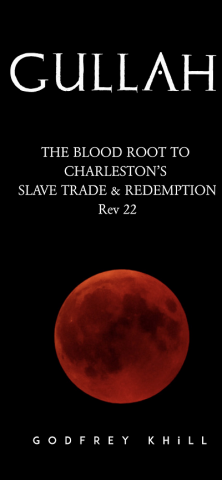 While exploring vital societal topics of race, politics, religion, and slavery, readers discover the true face and identity of Gullah with the help of a native Gullah himself. By bringing truth and clarity to readers around the world, Godfrey manages to correct mistruths as they are understood by many around the world and within the local Charleston community.
An accomplish historian, Godfrey is the owner of the tourism company Gullah Geechee Tours of Charleston, voted the number one Gullah tour in Charleston. A city acclaimed for its diamond status as a tourism destination, Godfrey tells Charleston's most popular history, slave history, in a way that has earned him designations as the Most Accurate Historian and Most Exciting Tour Guide in Charleston.
To learn more about Godfrey's new book, please visit GullahPages.com.
To schedule a Gullah tour or to receive more information, please visit GullahGeecheeTours.com.
About
Godfrey Khill is Charleston's only native Gullah historian, tour guide, and published author that is full-blood Gullah Geechee. His entire life has been devoted to his Gullah heritage and the ways of the elders. He is committed to telling the truth of Gullah to change the world as we know it.
Media Contact
Company Name: Gullah Geechee Tours of Charleston
Contact Person: Godfrey KHiLL (Gullah Jac)
Email: [email protected]
Phone: 843.478.0000
Address:PO Box 1517 Summerville
City: Charleston
State: South Carolina 29485
Country: United States
Website: Gullahpages.com