EdbMails Introduces Automatic Recover and Migration for Exchange and Office 365 with Server Throttling Management
The company releases new enhancements; integrates Office 365 Migration, Exchange Migration, IMAP email backup into its flagship product – EdbMails!
NEW ROCHELLE, NJ – November 07, 2019 – Today Shifttocloud, Inc., a leading global data recovery, migration and email signature platform providing services for more than 150 countries. With over 150 countries business use our flagship product 'EdbMails', Shifttocloud stands among the leading providers of data recovery, migration and email signature service.
EdbMails is a versatile recovery and migration tool which does its best to cater to just about every possible recovery and migration need. It supports Exchange Recovery, Office 365 backup and migration, Exchange server backup and migration and IMAP email backup and migration.
It helps Administrators in the event of company mergers or acquisitions, upgrading legacy Exchange servers, data backup to mitigate any disasters, get back your mailboxes after an unforeseen event like accidental deletion, formatting, ransomware attack, hard drive corruption or system crash.
Automatically export EDB to PST and upgrade legacy Exchange servers from 2003, 2007, 2010, 2013 to 2016 and Exchange 2019. It's a perfect recovery and migration tool for your Exchange server with Hosted Exchange and On-premises Exchange migration support.
Cut-over, hybrid and staged migration support – EdbMails supports all your migration scenarios with its ease of use and user-friendly user interface.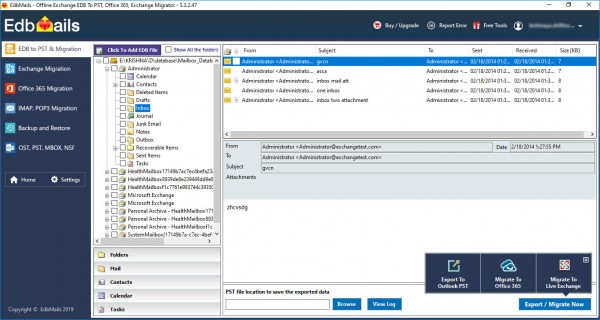 Office 365 Migration and Exchange Migration
Automate your Office 365 migration and management needs with EdbMails proven desktop application. The mailbox migration to Office 365 from Exchange Server is easier than ever before. EdbMails will simplify the migration process and can securely migrate data with less risk. It can migrate Office 365 mailboxes, Shared mailboxes, Public folders and more to another Office 365 / Exchange environment without affecting the folder hierarchy and meta-data properties.
IMAP Email Backup and Migration
Easily migrate mailboxes from an IMAP server to Office 365 or Exchange using EdbMails IMAP migration solutions. You can migrate IMAP mailbox data to Office 365 and its related data from G Suite or Gmail to Office 365 effortlessly. Millions of users use EdbMails for their mailboxes migration worldwide.
EdbMails – Incremental Backup and Migration
EdbMails supports incremental backup and migration – by only the newly added items (not yet considered for migration) from the source mailboxes are considered for the migration by comparing the previous migration data during consecutive operations. Thereby it will avoid duplicate items, bandwidth and performance of the migration will be improved.
AES 256-bit Encrypted Backup
AES 256-bit military-standard data encryption to safeguard your Exchange and Office 365 backup data during ongoing backup operation or for your locally stored backups. You can meet all the stringent security policies set by your organization easily using EdbMails Exchange and Office 365 Backup. It ensures additional protection for your backups.
Media Contact
Company Name: Shifttocloud, Inc.
Contact Person: Aradhya R
Email: Send Email
Phone: (302) 416-3056
Address:19266 Coastal Highway, Suite 4-49R
City: Rehoboth Beach
State: DE 19971
Country: United States
Website: www.edbmails.com