800 Remodeling Introduces a New Eco-Friendly & Energy-Efficient General Remodeling Recycling Solution For Homeowners In The Los Angeles Area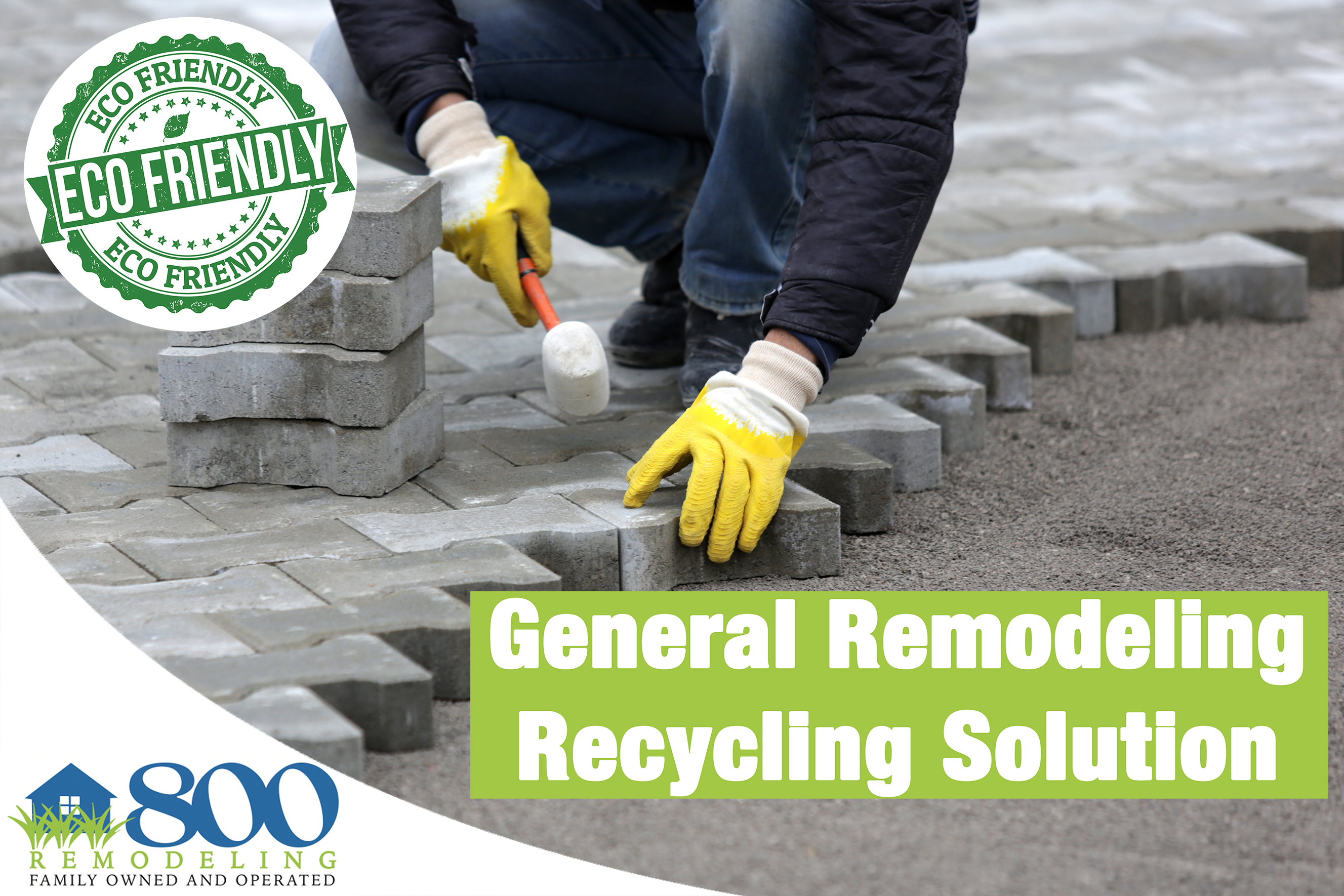 Leading providers of home improvement solutions, 800 Remodeling has established a new eco-friendly recycling solution for old home materials. Recycling old materials, like pavers, allow the company to re-create a new eco-friendly & energy-efficient material. The company offers the recycling solution with no additional cost.
800 Remodeling – Los Angeles top general remodeling contractors – strives to help homeowners in the Los Angeles area achieve their home remodel dreams for over 40 years. The company provides them with innovative remodeling solutions, energy-efficient appliances and eco-friendly products that are consist of natural resources and eco-friendly approaches. It will ultimately help reduce the usage of fossil fuels, paper production, and water waste. It's one of today's biggest renewable energy savings solutions. The company has stood out from the rest of the industry with its recycling service. The service will help homeowners save huge expenses on their general remodeling project. The company buys the old materials of the house from the homeowner only to recycle it in a cutting edge technology solution. That allows general contractors to re-use the new eco-friendly recycled material for the project. While Keeping our earth cleaner, 800 Remodeling strives to optimize the project budget.
General remodeling is one of the most important investments for homeowners. Unfortunately, thousands of families in the Los Angeles area have not been able to remodel their homes in line with their taste. Mostly due to financial difficulties, although home remodels are usually very beneficial for the homeowner since the resale value is increasing. In addition to the project cost, the homeowner has to get rid of the old materials of the home, many of which are still valuable. However, 800 Remodeling has been able to change this narrative by providing a cost-efficient and eco-friendly remodeling solution. The service is offered for backyards, walkways, patios, driveways, ADU garage conversions and other general remodeling projects.
Over the years, 800 Remodeling has established itself as a one-stop solutions provider for all general remodeling needs in the Los Angeles area. The innovative recycling option further substantiates this claim. The environmentally friendly remodeling model will help homeowners reduce their expenses, and achieve their dream remodel. The company only has to recycle old materials and use them for its client's projects. This also helps to reduce wastage and environmental pollution. Offering a win-win situation to every stakeholder – the general contractor, the homeowner, the neighbors, and our earth.
The many services offered by 800 Remodeling has made it Los Angeles #1 Rated General Remodeling Services Provider. Specializing in kitchen remodeling, bathroom remodeling, exterior remodeling, roofing, landscapes, outdoor living and more.
For more information about 800 Remodeling services and the innovative recycling solution offered, please contact us, or simply visit our website.
About 800 Remodeling
800 Remodeling is a family-owned & operated general remodeling company that has been serving the Los Angeles area for more than four decades. The company is fully licensed and insured, has worker compensation and is rated A+ at the Better Business Bureau. 800 Remodeling offers a wide range of general remodeling services, and cutting edge technology solutions. The company insists on using the highest quality of materials and craftsmanship and providing exceptional customer service to its clients.
Media Contact
Company Name: 800 Remodeling
Contact Person: Amir Porat
Email: Send Email
Country: United States
Website: 800Remodeling.com