Biconomy Selects Gaimin as their First IEO: Community Picks 19th January 2020 for the Day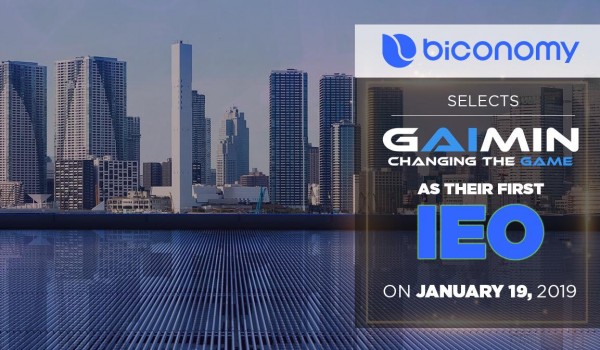 Gaimin.io is being selected by Biconomy to be the first project that kick starts their First Initial Exchange Offering (IEO). The IEO process will begin on 19th January 2020.
Biconomy sees the IEO as one of several capital formation tools for the exchange after looking for suitable companies to begin the process until they found Gaimin.io, a blockchain-powered gaming platform that reward gamers to use GPU when not being used for gaming.
"IEOs have already been supported by most of the major exchanges in the world. After exploring and examining the market, my team has decided to walk the path of IEO for our community. We will only bring in quality projects to excite our supporters. Gaimin is our top choice, and when they agreed to our value proposition in October 2019, we were overwhelmed," David Jung, CMO, Biconomy stated during the interview.
Biconomy, a Canadian-based cryptocurrency exchange, was founded in August 2019 with a global mindset. They already have offices in South Korea, Japan, Russia and United Kingdom. The team is dedicated to providing professional and secure trading experiences for their community of 100,000 registered users.
A poll took place on 31 December 2019, to determine the date of the IEO. A total of 1,000 registered users participated in the poll, and a total of 538 users chose 19 January 2020.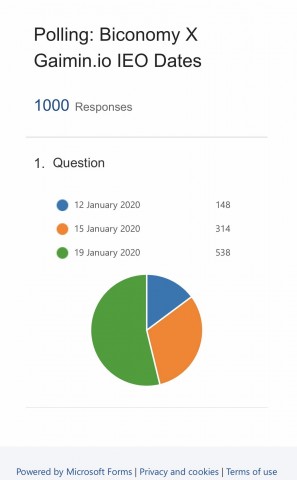 Credits: Biconomy. Polling results for Gaimin IEO.
"The community participants from both Biconomy and my end are very active. We were surprised that 19th is chosen. Frankly, we quietly hope to have it on the 15th which is one week before the Lunar Chinese New Year. As you know this is not our first IEO, we have completed 2 successful ones and we are feeling more excited for our third with Biconomy as we are engaging with another brand new market this time! We also want to see how far our project can go!" Martin Speight, CEO, Gaimin.io said.
For more information on the upcoming IEO, visit www.biconomy.com or www.gaimin.io
About Biconomy
Biconomy is a new cutting-edge cryptocurrency exchange with global view. Headquarter in Canada and have offices in Korea, Japan, Russia and UK. Biconomy is committed to opening a new era of the digital economy by serving outstanding blockchain projects with customized one-stop additional services around listing, trading, liquidity management and more.
About Gaimin
The Gaimin.io project is a blockchain powered gaming platform which connects the world's largest supply of distributed GPU processing power, which belongs to the 1.3 billion gaming PCs in the global gaming community, with the rapidly growing, worldwide demand for massive processing power, therefore allowing passive monetization of the gamer's GPU when not being used for gaming.
Media Contact
Company Name: Blockcast.cc
Contact Person: Jenny Zheng
Email: Send Email
Phone: +65 98832707
Country: Singapore
Website: https://www.blockcast.cc