Gospel singer Yvonne Hotor drops new single "God is Big"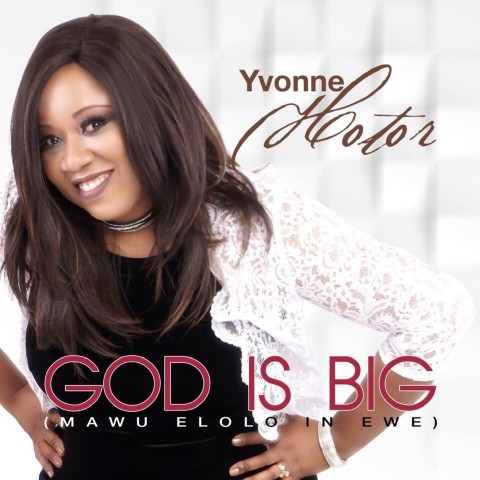 After a great epiphany while singing with ST. Tarcisians Choir at the age of 11, Yvonne Hotor knew her life was meant for a bigger purpose. She realized her singing was a gift received from God and dedicated her voice and life to the worship and service of Jesus Christ. She is rapidly gaining popularity for her enchanting voice and songs that show love and light to those in the path of enlightenment. She has announced the release of her latest single "God is Big" on YouTube and other digital music platforms.

Yvonne grew up in Ghana, West Africa and moved to United States at the age of 21 for studying Healthcare. She calls her job a ministry of taking care of patients through her frequent interactions with them. Her love for gospel music and Jesus Christ led her to All Nations Church, Atlanta GA in the United States under the leadership of Rev. Dr. Frank Ofosu-Appiah and Rev. Mrs. Mary Ofosu-Appiah of All Nations Church, Loganville, Ga, USA.
"My singing ability is a gift of God. It comes effortlessly to me. When I am in prayer I receive a word and sometimes a rhythm comes in mind and I'm able to convert it into music. As I work together with my producer to bring to light a sound that is presentable and musically right", states Yvonne.
Yvonne and her producer (Andrew Morgan) and other musicians created the song "God is Big" to give hope and a renewed faith to the followers of Jesus Christ. One can use this song for their morning prayers and devotions and to encourage people in their faith; especially, during seasons of feeling low and lost. This song will remind the listener to keep going and that God is always there to lift us up.

She further adds, "Regardless of any situation we face in life, we should look at it from God's perspective i.e. what message is God trying to teach or bring to our attention? I am called to give hope to the hopeless; to encourage the brokenhearted; that God is big in any mountain or valley we encounter. As we go to God in prayer, he will come true for us. Faith comes by hearing and hearing by the word of God."

Listen to all music by Yvonne at yvonnehotor.hearnow.com.
Facebook: https://www.facebook.com/magnifyJehovah/
Media Contact
Company Name: Yvonne Hotor Ministeries
Contact Person: Yvonne Hotor
Email: Send Email
Country: United States
Website: www.yvonnehotor.com