20-year-old computer programmer updates his mobile antivirus and security app on Google Playstore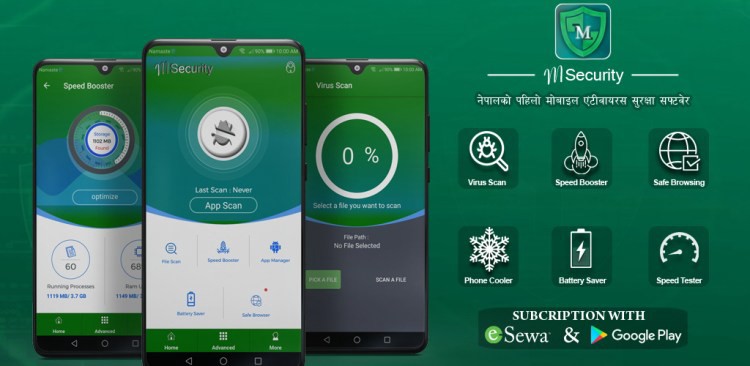 Young computer programmer and founder of Pharid Dot Com Pvt. Ltd., Pharid Ali, announces new update to his innovative app, MSecurity & Antivirus Pro, a mobile antivirus and security app
In line with his goal of helping users of the internet, particularly people that access information online using their mobile devices to get the best possible experience, Pharid Ali and his team at Pharid Dot Com Pvt. Ltd. recently made updates to the MSecurity & Antivirus Pro. The app, which is Nepal's first Mobile Security application, has already garnered reviews from users across the globe and the new updates will make it benefits even more accessible to internet users.
The subject of cybersecurity has become a major cause of concern for millions of individuals as well as businesses worldwide. The exploits of hackers and other criminals on the internet have made it imperative for internet users to enhance their security online. Consequently, several software developers have come up with a plethora of solutions to ensure the safety of internet users and their information. However, many of the available antivirus and security apps do not meet the needs of users, particularly the millions of people that access the internet via their mobile devices. This is where Pharid Ali and other members of the Pharid Dot Com Pvt. Ltd team have been able to make a difference with the innovative MSecurity & Antivirus Pro.
The app comes with tons of unique features that stand it out from other mobile antivirus and security apps available on the internet. The app offers a complete antivirus and security mechanism, which includes virus scanning, virus removal, virus protection, and privacy advisor, which uninstalls suspicious apps and keep all private information away from hackers and spies. Other power features of the app include App Manager for easy management of installed Apps and APK files in phone storage, Speed Booster for the accelerated performance of the device, Battery Saver, Speed Test for an easy, one-tap connection internet performance, and CPU Cooler.
The app is designed to be a complete companion for internet-enabled mobile devices, which explains its increasing popularity on Google Play. "It's awesome. I love this app I use lots of apps for my phone security but none of the apps work perfectly but this app actually works. if have hang problem on your mobile phone and most importantly viruses problem this apps for you .also this app has very good strong security browser and apps lock download the app is awesome," said My World on Google Playstore.
For more information about MSecurity – Antivirus & Security Pro and other amazing IT solutions from * Pharid Ali and his team at Pharid Dot Com Pvt. Ltd., please visit – www.pharid.com.
Pharid Ali also has a relatively strong presence on social media and can be found on Instagram and Facebook.
Media Contact
Company Name: Pharid Dot Com Pvt. Ltd.
Contact Person: Pharid Ali
Email: Send Email
Country: Nepal
Website: www.pharid.com