Silkroad Publishing Plans to Relaunch Chinese Graphic Comic Book Created by Zhang Xiaoyu, Aranya in Clouds On Kickstarter.
Silkroad Publishing plans to relaunch Chinese graphic comic book created by Zhang Xiaoyu, Aranya in Clouds on Kickstarter.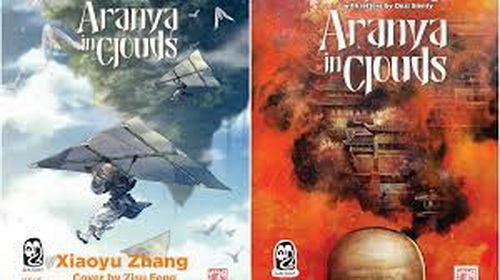 What is Buddha? What are we? People on the ground worship us, but we just want to go home. That is the question asked by graphic comic book, Aranya in Clouds. The graphic comic book is based on a well-known monk, Rootless, who was loved and worshipped by the people. His temple was so proud of him, until one day, he disappeared. He came back as a criminal, lost his fame, people's respect, and his freedom.
With the combination of modern graphic comic book creation and ancient Chinese culture, Zhang Xiaoyu finds a way to create a story that people will enjoy through visual representations and impactful language. The art in the graphic comic book will make readers feel like they have stepped into the past.
Originally launched on March 12th, 2020, Aranya in Clouds has been successful in the past, winning most favored graphic novel Chembery BD, which is a large scale comic festival in the EU. Because of its success, Silkroad Publishing plans to relaunch it through Kickstarter. This indie publisher mainly focuses on Asian culture comics and does their best to combine eastern and western cultures. They are a new publisher focused on producing good comics that represent Eastern culture and they also talk about how the culture has been misrepresented in pop culture on their Twitter and Facebook.
Artist Zhang Xiaoyu has also been a part of quite a few other projects and is a fixture in the graphic comic book world. Many of the pieces that he has created have been translated into multiple languages for people all over the world to enjoy. Born in 1975, Zhang Xiaoyu is originally from Anshun in the Guizhou Province in Southern China. He created his first comic pages in 1995 when he was an art student and from there became an art editor with Science Fiction World magazine. Since then has completed a dozen comic works, many of them with prestigious European publishers. He was twice been awarded China's top comics prizes in 1999 for David and in 2001 for The Take-off. From that point, he has become one of the country's most sought after comics artist.
What makes him unique is that Chinese traditional art has always been an important inspiration for him and when he prepares each of his works, he plans his sketches and designs like storyboards used in movies. He also reads and researches the subject of each project before moving on to long hours of drawing to make his ideas come to life.
Aranya in Clouds is merely an additional to his already existing works that he is very proud of and is very excited to relaunch it.
As part of the Kickstarter campaign offering, there are two versions of the graphic comic book in Rated M and Rated T. People interested in pledging the campaign can visit their Kickstarter Campaign and receive rewards to include either PDF forms of both versions or print versions. They will also get an inner drawing sniff bottle that has been drawn in the traditional method along with the graphic comic book.
Their campaign launched on September 15th, 2020, and will last 38 days until October 23rd, 2020. At the moment, they have received about $1,500 of their $8,000 goal and hope to be able to relaunch this excellent, exciting graphic comic book.
Media Contact
Company Name: Silk Road Publishing
Contact Person: Mars Xie
Email: Send Email
Country: United States
Website: https://www.kickstarter.com/projects/aranyainclouds/relaunch-aranya-in-clouds