Renowned dental clinic, All Smiles Dental Hygiene, announces special Professional teeth whitening in Lemoore
Registered Dental Hygienist in Alternative Practice, Kim Hope, announces that patients can now improve their smiles with the Professional Teeth Whitening Special in Lemoore currently offered by All Smiles Dental Hygiene.
Regularly priced at $250, custom made whitening trays are currently being offered for just $99. The procedure, which can drastically reduce or eliminate most superficial tooth stains, is faster and more effective than over-the-counter whitening kits.
Teeth whitening is one of the most convenient ways for patients to improve their looks. Patients will receive custom made whitening trays and gel to make the at home whitening experience quick and easy. Teeth whitening can resolve stains caused by a variety of sources, including:
– Coffee
– Tea
– Wine
– Berries
– tobacco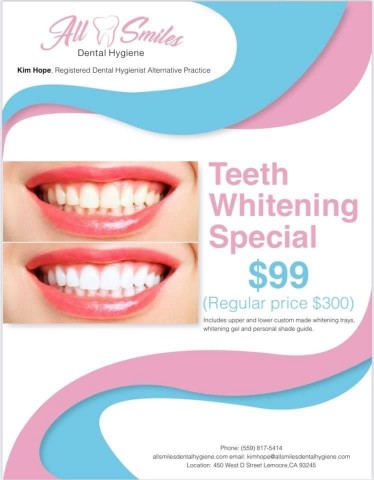 Most patients excited about the savings are also happy about the office's safety procedures during this COVID pandemic. "A regular adult cleaning appointment usually takes about 45 min, and I book every patient for an hour. So that there is rarely ever more than one patient in the office at the same time," says Kim Hope. By default, health risks and waiting times are kept at a minimum.
In addition to offering teeth whitening in Lemoore, All Smiles Dental Hygiene also provides several other advanced dental hygiene care services. Such as adult and child cleanings, deep cleanings, sealants, oral cancer screenings, fluoride treatments, and Orofacial Myofunctional therapy.
Kim Hope, RDHAP, Orofacial Myofunctional Therapist, has been practicing dental hygiene for more than 20 years in Lemoore. She graduated in 2000 from San Joaquin Valley College with an Associate's Degree of Science in Dental Hygiene. She then furthered her education at the University of the Pacific Arthur A. Dugoni School of Dentistry and graduated as an RDHAP.
Kim provides quality dental hygiene care for her patients, caring for adults and children in her practice. She is widely recognized throughout Kings County for her thorough and gentle care of patients of all ages.
Media Contact
Company Name: All Smiles Dental Hygiene
Contact Person: Media Relations
Email: Send Email
Phone: (559) 817-5414
Country: United States
Website: allsmilesdentalhygiene.com