Funded over 200 percent, the revolver inspired watch brand RVLVR – launches an amazing BOGO offer on Kickstarter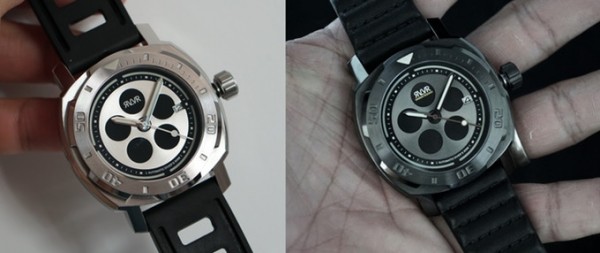 With an aim to create one of the most unique watches ever, a man named Dan Uchida of Honolulu, HI – has created a new series of original dive watches inspired by the revolver. So far, they have raised over $16,000 USD, double the set funding goal of $8000. Inspired by the response received from backers all over the world, the project owners have launched a Buy One Get One offer on the watch that can be reserved by choosing one of the Kickstarter reward pledges. What makes this watch really unique is that they are created in partnership with leading firearms manufacturer; Magnum Research and draws inspiration from their most powerful production single action 5 chamber revolver called the Biggest Finest Revolver, otherwise known as the BFR. This collaboration has resulted in a first-of-its-kind, limited edition watch called the RVLVR AD5.
The AD5 watch will be available in either silver and black. While the silver model will come with an HNBR rubber strap, the black model will come with a genuine leather strap. To make the AD5 an iconic dive watch, the project owners have put a lot of emphasis on its build quality, value, and originality of the watch, with a truly unique story behind the brand. Designing this watch with Magnum Research, they've set out to create a timeless watch with quality components and state-of-the-art finish. The dials of this watch are crafted out of quality, ammunition-grade brass, and then circular brushed and coated by hand while the bezel is inspired by the classic 6 shooter, turning 120 clicks to full rotation.
The watch uses the NH35A movement (by Seiko) displayed in an exhibition case back for the movement with the limited edition black model having the "BFR" trademarked logo stamped on the back. To offer maximum visibility in the dark, multiple coats of Swiss C3 Luminova was applied, with their signature crosshair illumination pattern fixated on the dial. The crown of the watch was also inspired by the 6 chamber cylinder and sandblasted to perfection. One can also see the logo and the words "Carpe Diem" engraved on it if they look carefully.
Furthermore, RVLVR watches promise to offer the best value for money, as watches with similar specs are priced at over a thousand dollars. You can still reserve the AD5 watch as low as $339 – via their reward tier. Catch their BOGO offers while you can!
More information about the RVLVR watches can be found on its official Kickstarter campaign page.
Media Contact
Company Name: RVLVR
Contact Person: Dan
Email: Send Email
Country: United States
Website: rvlvr.com