The Tejas Gosai Team was Named to REAL Trends + Tom Ferry America's Best Real Estate Professionals, Ranking in the Top 100 Teams in the United States
Bethlehem, Pennsylvania – July 2, 2020 – The Tejas Gosai Team was named one of America's most productive real estate teams as a part of REAL Trends + Tom Ferry America's Best Real Estate Professionals, a ranking report produced by REAL Trends and Tom Ferry International. Since its start in 2018, The Tejas Gosai Team has built an ironclad reputation as trusted advisors with a knack for navigating the undercurrents of the Lehigh Valley's booming marketplace. Today, Tejas Gosai is based in Bethlehem, Pennsylvania, under the banner of Century 21 Keim Realtors. The Tejas Gosai Team finished 2019 by ranking in the top 100 Century 21 teams in the United States and in the top 3 Century 21 teams in the state. Gosai's team is now a national member of the "America's Best Real Estate Teams," and ranked number 87th for the Commonwealth of Pennsylvania.
REAL Trends America's Best Real Estate Professionals ranks over 14,500 real estate professionals solely based on their excellence in real estate sales during the calendar year 2019. All production numbers are independently verified by a third party to ensure accuracy and report integrity. This group of highly successful real estate sales agents represents the top 1.5 percent of all real estate practitioners in the United States.
"Congratulations to Tejas Gosai and James Reardon for making the America's Best list," says Tom Ferry, owner and founder of Tom Ferry International. "I have the pleasure of working with successful real estate professionals day in and day out, and I know all the hard work, late nights, and huge effort that goes into achieving such incredible results," says Ferry. "There are multiple ways to become successful in real estate. Yet, despite the differences, the real estate professionals on this list have one thing in common — they are simply the best. Congratulations to all recipients of this prestigious recognition."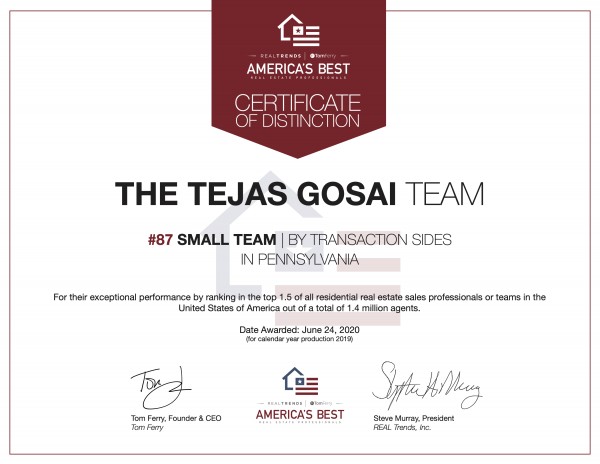 To qualify for inclusion, an individual agent must have closed at least 50 transaction sides or $20 million in sales volume in 2019. For real estate agent teams, the minimum is 75 transaction sides or $30 million in closed sales volume.
"Those individual agents and teams who make up the 2020 America's Best Real Estate Professionals represent only about 1.5% of all Realtors® in the country yet account for over 10% of the closed transactions, and more than 16% of all the sales volume closed last year," says Steve Murray, President of REAL Trends. "To say that the members of The Tejas Gosai Team are exceptional sales professionals is an understatement. To attain this level of sales is simply extraordinary."
"We are honored to be recognized as one of the country's top real estate teams," says Tejas Gosai. "It reflects the time and effort we put into each client we serve and the dedicated, diligent, and detailed work it takes to build a successful real estate career. With only four registered agents on the 2019 team, the level of sales needed to qualify makes this a very special recognition. I can honestly say that I could not have done this without my teammates, family, friends, and extremely supportive wife."
As for the future, James Reardon will further develop his leadership role in the team as he leads the firm in targeting commercial real estate, hotels, multi-family, and operating businesses. With his team being established, Tejas Gosai is expanding his career by accepting a position as the manager of a newly formed private equity fund where he will put his vast real estate experience to work for accredited investors. The fund is named after the community in which it will serve. The Lehigh Valley Private Equity Fund, "LVPEF," set to officially launch next month, is a Regulation D, evergreen, private fund designed to provide high-yield returns through diversification in lending and acquisitions in the real estate industry.
Information on the fund can be found online at www.LVPEFund.com.*
Information on those receiving this recognition can be found online at https://www.realtrends.com/rankings/americas-best
Media Contact
Company Name: The Tejas Gosai Team
Contact Person: Josh Schoenberger
Email: Send Email
Phone: 484-767-4213
Country: United States
Website: http://www.thetgteam.com/