Business Tycoon – Montique Shelton – To Hold Free Financial Literacy Classes For Teens And Young Adults
Multi-talented financial Expert, Montique Shelton Launches Two Weeks Intense Webinar To Teach Teens and Young Adults Critical and Practical Things They Need to Know about Money
Money is unarguably one of the most popular words ever coined; it is equally one of the most powerful. To meet varying degrees of his basic needs, let alone the unlimited list of needs, people cannot do without the power provided my money. Despite its importance, money often seems so sloppy and elusive that only a few can say they have enough to meet their basic needs and even get more – financial freedom.
In a bid to get a hold of this game of money, people can go to any length. Unfortunately, key and practical knowledge about money are not taught in the four walls of the school as popularly known. Also, there are abounding myths about money and how it works. Montique Shelton has the first-hand experience of what this is all about and has been able to work his way to financial freedom.
As a first-class financial expert armed with real-life experience, Montique has developed an approach or model that he has used to help many navigate their paths to financial freedom. Having done this for over two decades, he has realized that it is far better to begin this journey early hence his current launch of the financial literacy modules for teens and young adults, ages 13-25.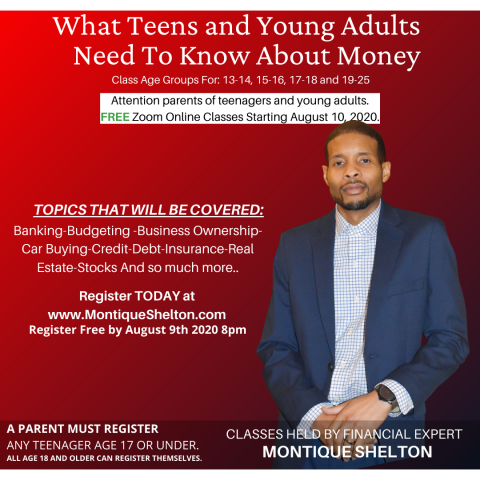 To this effect, a free financial literacy event has been slated for Monday August 10, 2020. The webinar would be held on the popularly known cloud-based video conferencing app Zoom and will cover critical aspects of finance such as budgeting, banking, business ownership, car buying, real estate, stocks, and many more. Teens and young adults will learn key things about money that they probably never would learn within the four walls of the classroom. This training is practical oriented and geared towards results. Parents who want their children to be unhindered financially cannot let their children miss this opportunity. In addition, it is to be noted that the parent must carry out the registration for ages 17 and under, young adults ages 18-25 can register themselves.
Interested participants are advised to sign up and be a part of this knowledge-oriented program.
For more information, please visit signup page and registration is free!
About Montique Shelton
Montique Shelton is a financial expert, Motivational Speaker, and Multi-business Entrepreneur. He has over two decades of finance experience, over which he has helped a wide range of people to achieve financial freedom through his simple approach of communicating personal finance. He worked with HSBC for 17 years, where he served in different key roles including Branch Manager. Also, he worked with Toyota and Hyundai Car Dealerships as a Sales Manager, during which he sharpened his skills in finances, negotiations, and credit restoration.
Media Contact
Company Name: Creative Mind Publishing
Contact Person: Emery McMillan
Email: Send Email
Phone: 716-222-0051
Country: United States
Website: https://www.montiqueshelton.com/sign-up