Bearrecord: a Unique Online Voice Recorder & Audio Cutter

The recorder runs directly in the browser without installing additional software.
August 19, 2020 – Unveiling Bearrecord, a topnotch free online voice recorder that helps people to create an audio recording directly from a browser by using a microphone. The recording is produced locally on the computer, and can record as many times as needed with the option to save the recording on the bearrecord server and get a link to it so that it can be sent via email or use on the web.
Bearrecord free online Voice Recorder is a convenient and simple online tool that can be used right on the browser. It allows people to record voice using a microphone and save it as an mp3 file. Bearrecord free online Voice Recorder is completely free. No hidden payments, activation fees, or charges for extra features.
Bearrecord free online Voice Recorder automatically detects silent fragments at the beginning and the end of the recording and deletes them for users' convenience.
Users can complete the purpose of recording, editing, and saving sounds at one time. Generally, users need to edit the audio after recording. This program provides complete editing functions that include: cut, fade in, fade out, change volume, etc.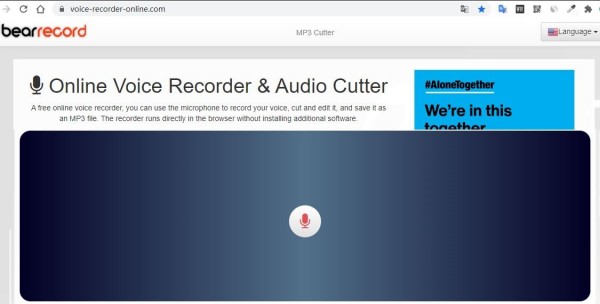 Below is a helpful guideline highlighted to assist users Record:
• Click the red Start Record button above to start recording.
• While recording, you can pause and resume recording by clicking the appropriate button.
• When you are finished recording, click the Stop Record button.
• You can save recording sound to your computer, or you can choose to cut and edit audio.
• If you decide to edit sound, go to the editing page, you can cut, modify sound after the modification is completed, you can save to the computer, the saved format can be MP3, WAV, OGG, etc.
To have a different output, there are some System requirements computer device needs to be put into place as it required a microphone and sound card to allow the browser to use microphone device. More also, this program can be used under any operating system, including Windows, Mac, Linux, etc.
Based on the standard interface of BOOTSTRAP. Recording can be done in 3 easy steps. There are no complicated settings and options. Click with the mouse to complete.
For more information, please visit: https://voice-recorder-online.com/
Media Contact
Company Name: BearRecorder
Contact Person: Stephen.Lv
Email: Send Email
Country: United States
Website: https://voice-recorder-online.com/