Anyside: An Innovative Web3 Name Service Is Set To Launch In October 2022
Web3 domain names are blockchain-based DNS addresses specifically for Web3.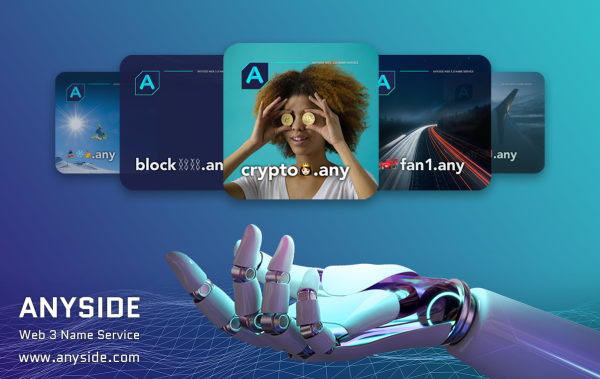 According to a study, about 28 million NFTs were sold in 2021. However, over 60% of all crypto tokens sold to date have no utility.
In the past few months, Blockchain Name Services have consistently topped the charts on most NFT marketplaces. In this booming market segment, Anyside aims to disrupt the space with Anyside token that provides its holder access to key utility features.
When a user registers an Anyside Web3 username, which can be made up of a combination of letters, numbers, and even emojis, he/she also gets access to an exclusive and matching domain name URL that can be used as a short link in the bio. Users can set up and customize their Anyside page in seconds, displaying all their socials, NFT collections, and crypto wallets, all in one place, and easily receive payments on any blockchain.
The importance of branding for Web3.
Name identity is becoming increasingly important in Web3. Beyond the vanity aspect, investors, developers, artists, influencers, and crypto enthusiasts already all understand the power and importance of branding in the metaverse. Meanwhile, multiple Web2 brand names such as Adidas and Dolce & Gabbana have started to claim ownership of their digital brand identities on Web3. A Web3 identity helps facilitate payments, develop branding, and enhance visibility, trust, and safety. Think of Anyside as a Web3 passport and your gateway into the Metaverse.
Working of Anyside token.
The Anyside token is Cross-Chain compatible, which means that it can be registered (minted) on any compatible chain. Currently, compatible chains include Ethereum, Solana, and Polygon, and it is possible for more chains to be added in the future. Thanks to the Anyside Portal, users can also move their tokens from one compatible chain to another in just a few clicks and at any time. Currently, existing blockchain name services are often tied to and run on a single cryptocurrency, and cannot be migrated onto other blockchains. Users who adopt a blockchain name from an incumbent service are tied to the success of a single cryptocurrency. This could be problematic given how early blockchain is and how fast things are changing in the space. Cross-chain compatibility allows Anyside token holders to hedge against an unpredictable Web 3.0 future, and to ensure that the Any name service will be relevant careless of which blockchains become dominant.
Furthermore, users can easily customize their Anyside NFT tokens in a few clicks, and they will be able to trade their Anyside names on most major marketplaces, such as Opensea, Solsea, and Magic Eden.
Finally, Anyside's API (Application Programming Interface) allows for easy integrations and is suitable for use by DApp (Decentralized Application) developers. Anyside API integrations can be used to facilitate crypto payments, authentication, and more, opening the door to more practical applications and further utility.
Release planned for October.
Anyside names will be available for registration from October onward, and a free drop is also planned at launch. Anyside Twitter followers automatically qualify to claim the free Airdrop.
To learn more visit : https://anyside.com
For updates follow Anyside on:
Discord: https://discord.com/invite/88MAaT2qgm
Twitter: https://twitter.com/AnysideNames
Media Contact
Company Name: Hyperion Capital Holding Ltd
Contact Person: Media Manager
Email: Send Email
Country: HongKong
Website: anyside.com