New book "Juunyork: The Final Chapter" by Brandon McKinney is released, a beautiful and tragic true story of love, modern dating, and the real experiences of the LGBTQ+ community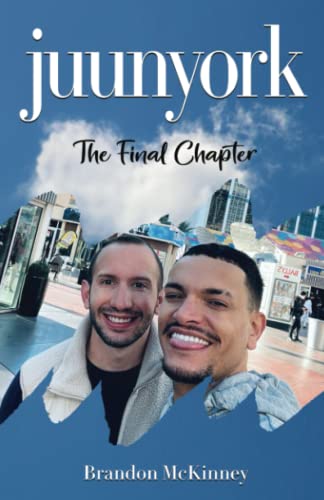 "Juunyork: The Final Chapter" by Brandon McKinney has been released worldwide. This 96-page biographical story follows the love story of Brandon, an American, and Junior, a Brazilian social media influencer, through their growing connection online and in person, culminating in a beautiful romance cut short by Junior's untimely death.
A raw and honest portrayal of complex emotion, the book provides an underrepresented look at a romantic relationship between two men in the modern world, which are often not fully accepted by much of society. McKinney explores the experiences that helped develop their love, the difficulties of navigating a relationship around the pressures of social media, and the final 24-hours of Junior's life. Though their story together ends in tragedy, the palpable love between Brandon and Junior is an inspirational message for all readers to follow their hearts.
The book is available in both English and Portuguese, with a portion of every sale going to Junior's family. Junior, who was known as Juunyork on social media, had over 400,000 followers on social media when he passed away. This biography and tribute is an addition to his legacy, sharing a powerful, inside look at his capacity for love to those who feel his absence.
Juunyork: The Final Chapter (ISBN: 9781662928222) can be purchased through retailers worldwide, including Barnes and Noble and Amazon. The paperback retails for $9.99 and the ebook retails for $2.99.
Juunyork: O Capitulo Final (Portuguese Edition) (ISBN: 9781662928246) is also available through retailers worldwide.
From the back cover:
The Final Chapter is a true story about a romance between a man, Brandon, who falls in love with a Brazilian social media influencer, Junior. The story begins on the first day they meet and follows them through the next eight months of their relationship. It ends with their final tragic day together.Each month shows the progress of their journey and the role social media plays in their love. It outlines the current fashion of LGBTQ dating involving apps, open relationships, and the evolving meaning of exclusivity. Witness their passionate sexual experience, their romance, explosive outbreaks, and multiple vacations.In their final months together, feel their love before it is destroyed by a tragic accident.
About the author:
Brandon McKinney is a twenty-seven-year-old currently pursuing his master's degree in global strategic communications. He obtained his bachelor's degree in marketing from the University of Florida. He is a Florida native. He loves traveling, animals, and hopes to one day have a big family. In his spare time, he is active in many sports leagues in the Orlando area. This is his debut novel.
Media Contact
Company Name: MindStir Media LLC
Contact Person: Jen McNabney
Email: Send Email
Phone: 800-767-0531
Address:1 New Hampshire Ave Suite 125
City: Portsmouth
State: NH
Country: United States
Website: https://mindstirmedia.com/