Premier home decor brand, Switch-Art introduces its "Inter-Changeable Wall-Art" to the home decor market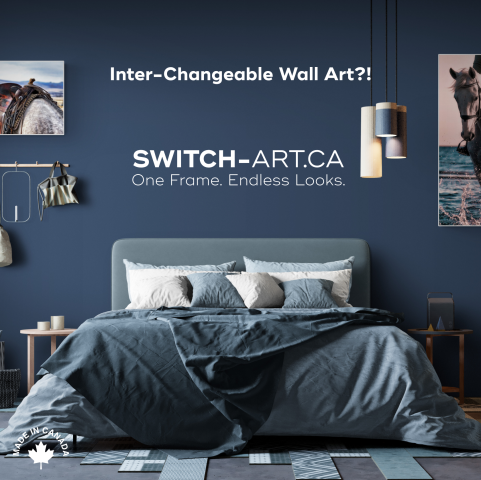 Switch-Art is a home decor company currently making waves in the 2022 holiday shopping season with its high-quality, innovative "inter-changeable wall-art system"; a long over-due and welcome alternative to the traditional stretched canvas and framed art that our grandparents pioneered.
With home decor sales forecasted to reach 202 billion dollars by 2024 (Statista.com) in the US alone, progressive, innovative designs and ideas like Switch-Art's "inter-changeable" solution are sure to be a big hit.
The Switch-Art system allows the user the freedom to refresh their wall-art for any number of reasons – in just a couple of minutes. Watch Here. The system is elegantly simple, a discreet, low-profile aluminum frame with a built-in channel in which to stretch the printed artwork "face". The face consists of a high-quality fabric designed specifically to reproduce stunning and vibrant colors.
Made with 100% Canadian goods Switch-Art has succeeded in offering a top-quality, custom product for a mid-range price.
Switch-Art is grabbing attention with its tagline "One Frame – Endless Looks", they not only succeed in catering to the design and style preferences of a wide array of clients they offer a very popular UPLOAD function where the customer can print a treasured photo.
Whether for season-specific designs, holidays, trends or even moods; regardless of what theme, color, or effect one is looking for, Switch-Art will likely have something to meet their requirements.Switch-Art's interchangeable wall-art system has received rave reviews from its users.
The ease of use, quality and beauty are major talking points. According to a client: "Such an amazing concept. It took me less than 15 minutes to get it put together and it looks great! It is so easy to take the picture in and out of the frame, and it feels very secure."
"It will be so fun to be able to quickly and easily change the artwork to fit into my Christmas decorating! Being able to fold & store the faces is especially handy in a condo. We are loving our Switch-Art!" declared the excited client.
To engage the services of Switch-Art, check out the company's website at www.switch-art.ca
Media Contact
Company Name: Switch-Art
Contact Person: Tracy Casteels
Email: Send Email
Phone: 4169958854
Country: Canada
Website: www.switch-art.ca