The launch of an exclusive range of heating gear for Winter 2022 by Kemimoto
Kemimoto, a reliable and convenient producer of UTV accessories and gear is dropping a new collection of heating gear.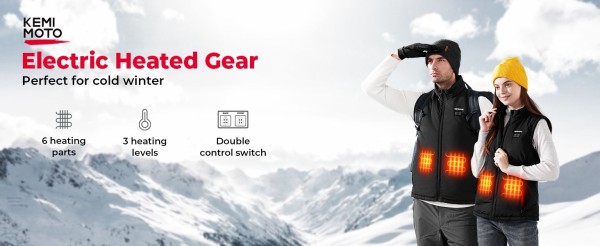 UTV enthusiasts require the best gear to compete at the highest level or even enjoy the fun activities on their UTV. Kemimoto is committed to becoming the leader in providing UTV accessories to the world's off-road enthusiasts. Kemimoto provides mirrors, whip lights, and storage boxes for Polaris, Can-Am, and Honda.
The new addition to the company is an exclusive range of heating gear for Winter that includes rechargeable waterproof gloves, heated socks, heated vests with wild hoods, and many more that will make the journey for off-road enthusiasts easy and more comfortable in the Winter. The convenience ensured by the company enables travelers to embark on an off-road trip without having troubles in the Winter.
Check out the new heating gear at https://www.kemimoto.com/collections/gear
Kemimoto combines the experiences gained in vast backgrounds to manufacture the most effective and quality products. The team at the company consists of engineers and designers who work together to produce a product that exceeds clients' expectations. The team works day and night to provide the best services for customers. What makes Kemimoto stand out is their quickness to turn an idea into reality.
A customer reviewed Kemimoto products and stated,
"Everything I have purchased for my 2021 Polaris PRO XP Razor has mounted and worked flawlessly. I highly recommend Kemimoto for your products. From great prices to quality products, reasonable shipping times, and good customer service, Kemimoto is right on."
Customer feedback is essential at Kemimoto; the company cooperates with UTV riders with experience in their field to improve the products according to their suggestions.
This system helps the company improve its products according to the client's requirements.
Customers can purchase the heating gear at the website and avail of a 12% discount if they shop now at Kemimoto's official website. Check out the website at Kemimoto's Official.
The company is a member of SEMA (Specialty Equipment Market Association). The membership brings many advantages to the company and its staff, including access to professional development, market research, industry publications, and events.
The heated gear will bring warmth to adventures in the cold weather. The package will be delivered in a few days with 100% secure shipping. Lifetime customer support will help with the return policy, which includes a 30-day money-back guarantee in case the customer doesn't like the product or has any issues.
About Kemimoto
Kemimoto started making turbocharged engines but soon recognized that building UTV accessories and gear was more required by the customers and clients and shifted their complete focus. The company focuses on product reliability and convenience and wants to become the leading brand in UTV accessories supported by off-road trail lovers.
Media Contact
Company Name: Kemimoto
Contact Person: Support
Email: Send Email
Phone: 669-251-7098
City: San Leandro
State: California
Country: United States
Website: www.kemimoto.com