Good News about the Sale of a 100kw Yuchai Diesel Genset by Dingbo Power
Recently, Dingbo Power has signed a new order! Nanning Irrigation Test Station has successfully purchased a 100KW Yuchai diesel genset from Dingbo Power. The genset is configured as Yuchai YC4A series diesel engine+Shanghai Stanford generator. The genset is equipped with dual power switching cabinet, which can automatically switch the load circuit from one power source to another (standby) power source to ensure the continuous and reliable operation of important loads.
The Nanning Irrigation Experimental Station is mainly responsible for conducting experiments on the relationship between irrigation and the growth, development, and yield of crops such as rice and sugarcane. It analyzes and organizes data on crop yield increase, high yield, and water conservation, and regularly submits experimental data to the Irrigation Experimental Station of the Ministry of Water Resources and the China Irrigation and Drainage Development Center. Power equipment is the core equipment of irrigation test stations. Strengthening the operation and management of power equipment to ensure its normal operation is the key to ensuring the normal operation of the entire irrigation area.
The 100kw Yuchai diesel generator set purchased by the user this time adopts a digital control system, which is highly intelligent. It can provide different functions such as remote computer remote control, group control, telemetry, automatic parallel operation, automatic fault protection, etc. according to the different needs of the user. The genset meets the national environmental protection requirements, and is characterized by compact structure, convenient operation, stable operation, low fuel consumption, low noise and low emissions, It is a national brand diesel generator set widely favored by the market.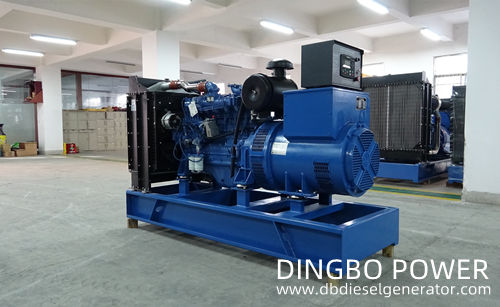 The genset is equipped with Yuchai YC4A series diesel engines, and the main features of YC4A models are:
1.The main structure of the engine body, cylinder head, crankshaft and connecting rod has been tested for a long time, ensuring the high reliability of the entire machine.
2. Adopting advanced and mature BOSCH electronic control common rail+efficient turbocharging intercooling technology, precise control of fuel injection quantity, sufficient intake air, ensuring that the diesel engine burns fully, has low fuel consumption, and low emissions under different load conditions.
3. Adopting a full flow oil cooler, the heat dissipation efficiency is increased by 30%, effectively reducing the oil temperature, allowing the oil to lubricate components at a reasonable temperature and reducing friction losses.
4. Adopting a cylinder head integrated water outlet main design, reducing sealing surfaces and improving sealing reliability.
5. The piston is cooled by an internal cooling oil channel, effectively reducing the temperature of the piston and providing a long service life.
6. The product performance meets the G3 performance level requirements in GB2820, and the emissions meet the requirements of GB 20891 Country III (T3).
In order to ensure that users can put into use in a timely manner, Dingbo Power promises that the new gensets will be delivered within 10 days after the contract is signed, and provides a one-year warranty period for the gensets. From the date of qualified arrival or final acceptance to the expiration of the warranty period and confirmed by your company that there are no quality issues, Dingbo Power will provide customers with 7 * 24 hour telephone support service during the warranty period, Dingbo Power always adheres to the principles of "reliable quality, reasonable price, timely delivery, and thoughtful service", providing high-tech, high-quality products and high-quality services to all users. If you are also looking for diesel generator set, please contact us by email [email protected]
Media Contact
Company Name: Guangxi Dingbo Power Equipment Manufacturing Co., Ltd.
Email: Send Email
Country: China
Website: https://www.dbdieselgenerator.com/