Second 'Prospecting & Outreach Summit' Alert: Unlock The Next Level of Prospecting and Outreach Excellence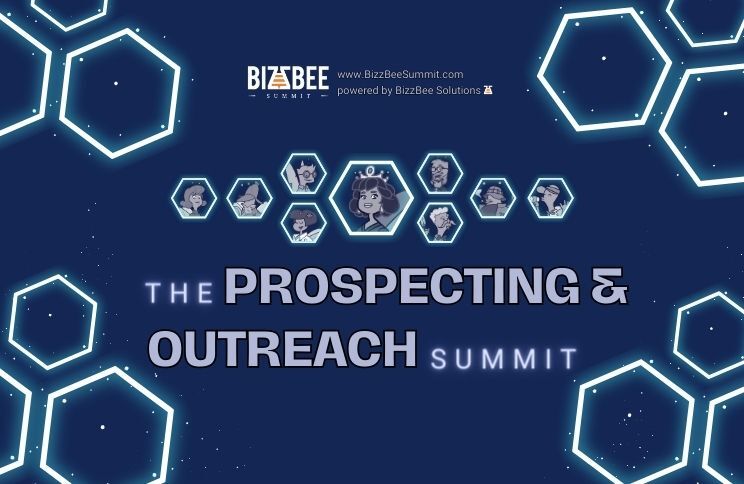 NAVIGATING THE FUTURE OF SALES WITH GLOBAL THOUGHT LEADERS
Event Date: November 15, 2023
Hosted by: BizzBee Solutions
BizzBee Solutions proudly presents the Prospecting and Outreach Summit 2023, an event that announces a new era for businesses looking to thrive in sales development.
As a renowned player in the business development space, BizzBee Solutions is organizing the summit to address the pivotal elements of prospecting and outreach.
The online event is set to explore practical and innovative topics like AI integration in sales, effective outreach communication, and leveraging various channels for maximum lead generation.
With the sales landscape more competitive than ever, the Prospecting and Outreach Summit 2023 addresses a critical need for strategic evolution and adaptation. It brings clarity to the use of prospecting tools, decision-making for outbound marketing channels, and the development of skills necessary to thrive in a digital-first sales environment.
"We're at a pivotal point where the art of prospecting and outreach can truly redefine a business's growth trajectory," said Natasha Razmoska, CEO of BizzBee Solutions. "This summit not only brings together the greatest minds in the field but also gives attendees actionable strategies that can be implemented immediately for real results."
Over a dozen established speakers will share their insights on topics ranging from prospecting automation to outbound channels to building a career in sales development.
This year's Prospecting and Outreach Summit 2023 gathers the finest minds to share and cultivate a blueprint for success in modern sales tactics and lead generation.
Juergen Stichenwirth (AUS) – Founder & CEO at VendoSolutions,

Liz Lemarchand (FRA) – COO at MediaDev,

Ashant Chalasani (GER) – a thought leader in integrating AI within business applications and a Co-Founder at PowerOn™,

Cedric Royer (ESP) – Founder at Jump Foundation,

Charles Cormier (MEX) – Serial Entrepreneur and CEO at Monetize Podcasting,

Buba Atanasovska Veljanoski (MKD) – Marketing Manager and a driving marketing force at BizzBee Solutions,

Graeme Gilovitz (ISR) – VP Sales Development at DealHub and the wizard of Fundamentals of Success,

Natasha Razmoska (MKD) – the dynamic force leading BizzBee Solutions as its CEO,

Kirko Papajanis (CA) – President & Chief Revenue Officer at Boxpilot and impressive 24-years in the marketing field,

Valentin Wallyn (FRA) – The visionary CEO of Findymail,

Gerard Compte (ESP) – The CEO and founder of FindThatLead and more than ten years in the outreach and prospecting industry.
The Prospecting and Outreach Summit 2023 is a free, online event, enabling participants to connect with industry leaders from the comfort of their own homes. Open to anyone interested in sales development, the summit promises a full day of insightful presentations and expert discussions to elevate your business approach in the digital age.
Media Contact
Company Name: BizzBee Solutions
Contact Person: Dancho Dimkov
Email: Send Email
Phone: +389 22 778 815
Address:Str. 1512 No. 1, Entrance 1 Office No. 26 & 27
City: 1000 Skopje
State: Republic of North Macedonia
Country: Macedonia
Website: https://bizzbeesummit.com/